May has been an intense month. We have done a lot of work, including designing new school common rooms.
Well, when students spend their free time, the eyes and attention will be drawn not only to smart devices, but also to educational and developing floor designs.
Laminated floor sticker - Transporter. Each time students enter or leave the math classroom, they will know how wide the door opens.
Laminate Floor Sticker - Parts. Delicious vegetables and fruits divided into different parts. An eye-catching and educational design as you walk by.
Laminated floor sticker - Single bill. Sometimes it is forgotten, sitting in the hallway and waiting for the next class or bus, children can repeat the recalculation.
Check out the full range of floor stickers and order today.

Planning a raffle at your event and want to make it special and different.
We have an offer - rent the Wheel of Fortune. It is possible to place 10 or 20 different winnings on it.
When renting the Wheel of Fortune, you can create your own sticker and design the base of the wheel as you wish.
Or tell us your ideas, send the description and we will prepare the design and design the Wheel of Fortune.
Wheel of Fortune circle diameter: 50 cm
Height: 1.5m
Wheel of fortune rental - 30 EUR (for the weekend)
Personalized design with presentation - 15 EUR
Take a look at our Store and find a variety of party paraphernalia and large format games for rent.
Because parties without games are just meetings!
We continue to work and refresh the premises of educational institutions with our work, creating a more colorful, attractive and educational environment for children.
This time a laminated floor sticker PLANETS OF THE SOLAR SYSTEM. The sticker is designed so that children can learn the names of the planets, memorize their successive distances from the sun, as well as the ratio of their sizes to each other.
Take the kids on a journey through the planets of the solar system!
You can also order our various educational and attractive floor stickers, the children will be delighted!
To familiarize yourself with the entire offer, visit the LAMINATED FLOOR STICKERS section in the Store.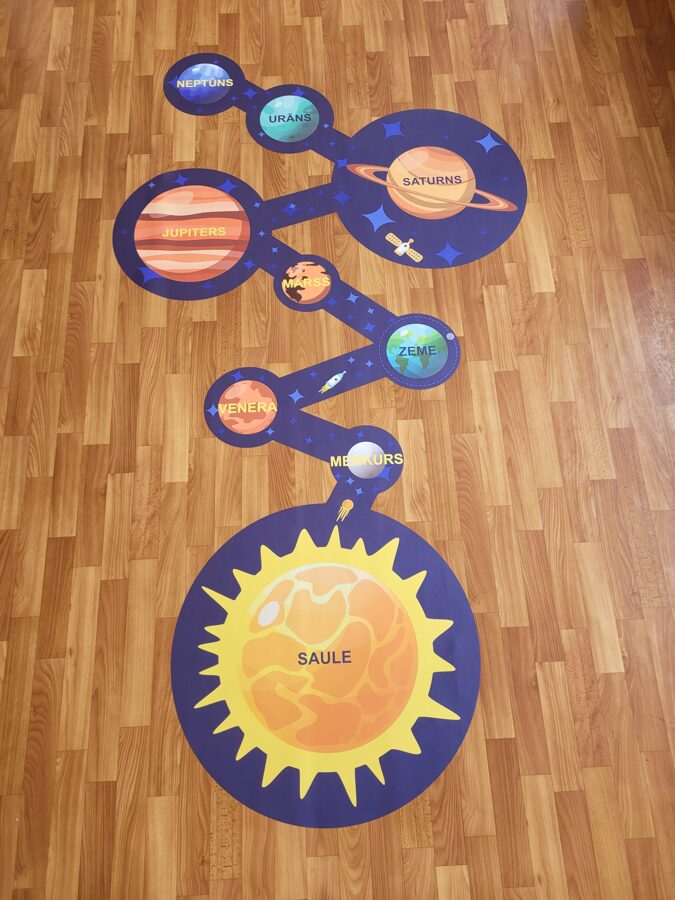 #biggames #grīdasuzlīmes #lielāsspēles #lielformātaspēles #dārzaspēles #lielaiscirks #spēlesbērniem